COVID-19: UNICEF unveils Pandemic Classroom at UN Headquarters in New York to raise awareness about the more than 168 million children globally without access to in-class learning for almost a full year
NEW YORK - MARCH 02: In this handout image provided by UNICEF and released on 00:01 GMT March 3, 2021, to call attention to the education emergency wrought by the COVID-19 pandemic, and to and raise awareness of the need for governments to keep schools open, UNICEF unveiled "Pandemic Classroom" - a model classroom made up of 168 empty desks, each seat representing one million children living in countries where schools have been almost entirely closed since the onset of lockdowns - at the UN Headquarters in New York City. "With every day that goes by, children unable to access in-person schooling fall further and further behind, with the most marginalized paying the heaviest price," said UNICEF Executive Director Henrietta Fore. "No effort should be spared to keep schools open" or prioritise them in reopening plans." On the installation, Fore added, "Behind each empty chair hangs an empty backpack - a placeholder for a child's deferred potential... We do not want shuttered doors and closed buildings to obscure the fact that our children's futures are being put on indefinite pause." School closures have devastating consequences for children's learning and wellbeing. The majority of schoolchildren worldwide rely on their schools as a place where they can interact with their peers, seek support, access health and immunization services and a nutritious meal. The longer schools remain closed, the longer children are cut off from these critical elements of childhood. (Photo by Chris Farber/UNICEF via Getty Images)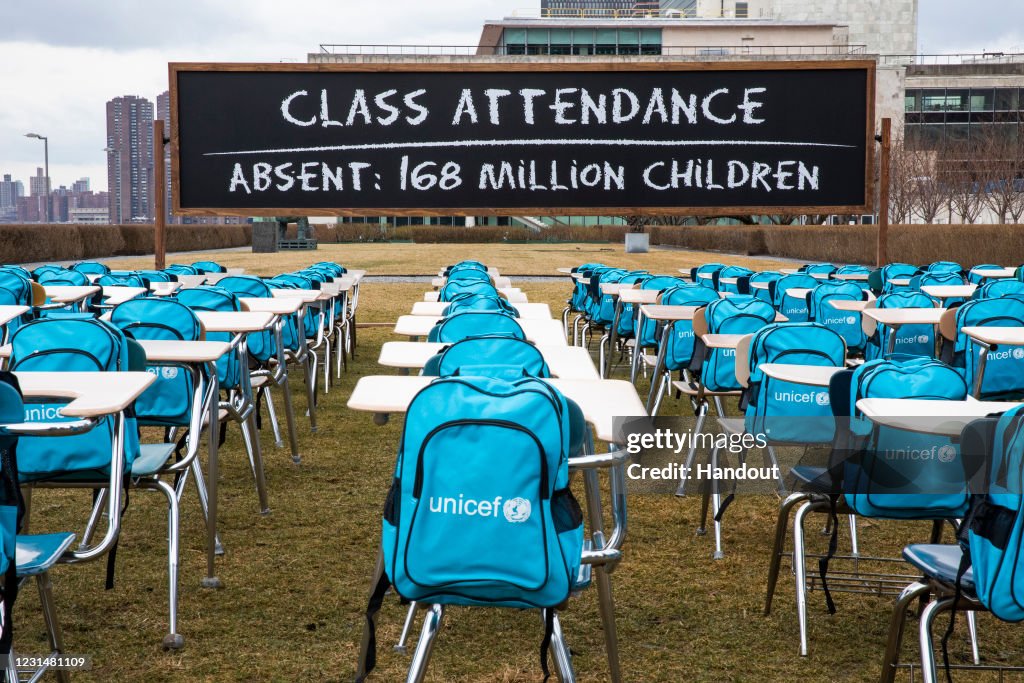 Como posso utilizar esta imagem?
DETALHES
Restrições:
Contacte o representante local para todos os usos comerciais ou promocionais. Direitos editoriais totais no Reino Unido, EUA, Irlanda, Canadá (não inclui o Quebec). Direitos editoriais restritos para jornais diários em qualquer outro local; contacte-nos.
Getty Images provides access to this publicly distributed image for editorial purposes and is not the copyright owner. Additional permissions may be required and are the sole responsibility of the end user.
Coleção:
Getty Images Entertainment
Data da criação:
02 de março de 2021
Fonte:
Getty Images North America
Nome do objeto:
pa2095939_020
Tamanho máx.:
5400 x 3600 px (45,72 x 30,48 cm) - 300 dpi - 13 MB