The Royal Family Pays Tribute To Nurses Across The Commonwealth
UNITED KINGDOM - MAY 12: NEWS EDITORIAL USE ONLY. NO COMMERCIAL USE (including any use in merchandising, advertising or any other non-editorial use). This photograph is provided to you strictly on condition that you will make no charge for the supply, release or publication of it and that these conditions and restrictions will apply (and that you will pass these on) to any organisation to whom you supply it. All other requests for use should be directed to the Press Office at Kensington Palace in writing. The photographs must not be digitally enhanced, manipulated or modified in any manner or form and must include all of the individuals in the photographs when published. In this photo montage screengrab Prince Charles, Prince of Wales, Camilla, Duchess of Cornwall, Prince William, Duke of Cambridge, Catherine, Duchess of Cambridge, Princess Anne, Princess Royal, Sophie, Countess of Wessex and Princess Alexandra pay tribute to the world's nurses via video call, speaking with healthcare professionals working in Australia, India, Malawi, Sierra Leone, Bahamas, Cyprus, Tanzania and the UK, the picture being released to mark International Nurses' Day on May 12, 2020. (Photo by Kensington Palace via Getty Images)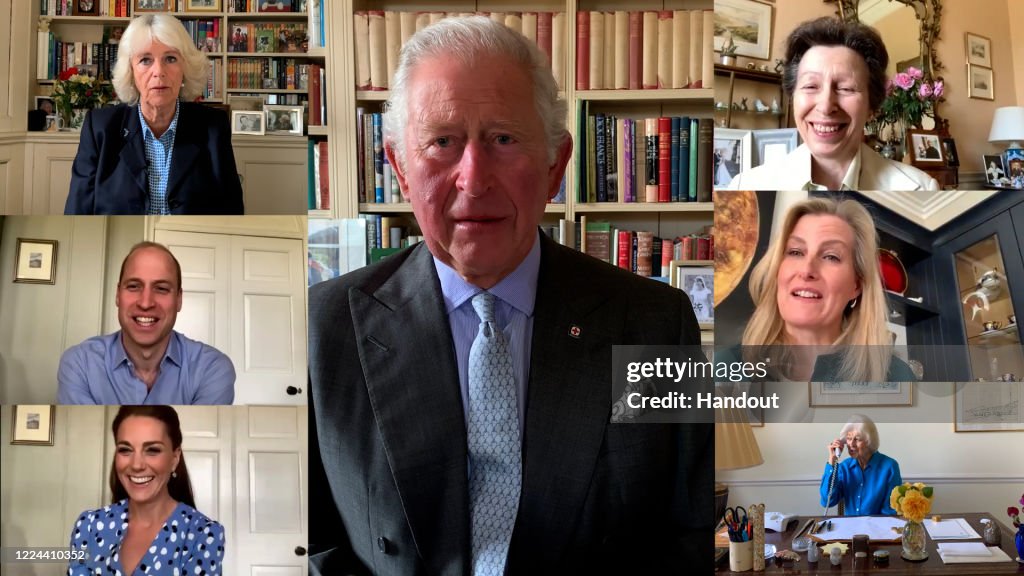 Como posso utilizar esta imagem?
DETALHES
Restrições:
Contacte o representante local para todos os usos comerciais ou promocionais.
Getty Images provides access to this publicly distributed image for editorial purposes and is not the copyright owner. Additional permissions may be required and are the sole responsibility of the end user.
Coleção:
Getty Images Publicity
Data da criação:
12 de maio de 2020
Nome do objeto:
family.jpg
Tamanho máx.:
1920 x 1080 px (16,26 x 9,14 cm) - 300 dpi - 1 MB